Leadership Garden Legacy
was created by Debra J. Slover. She is a graduate of Oregon State University and has more than 27 years experience in training and empowering youth and adult leaders. Debra's story is shared in the book U.N.I.Q.U.E. Growing the Leader Within. But you can also read about her
here
. It was through her life experiences that she chose to help others develop their leadership skills.
There are 2 main books. The book for adults -
U.N.I.Q.U.E. Growing the Leader Within
& the book for children -
U.N.I.Q.U.E. Kids Growing My Leadership Garden
(10+). There is also a
guide book
for the adults and an activity book for children is in the works. The books are also available in MP3 format for those who are on the go! (This was very useful to us!)
So, Jonathan and I received our books in the mail and our downloads for the MP3's of the books to take with us. We also got the guidebook and a prototype for the activity book for children. I assigned reading time for us together as we worked through these books. This way we would be basically going through the same thing but at our own levels.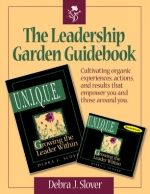 As I read Debra's story in the adult book, Growing the Leader Within, I was crying. I can't even imagine the pain she went through. But it helped shape her and give her experiences to learn from that brought her to where she is today. This story is not in the child book.
Both books use the same acronym U.N.I.Q.U.E. This stands for Understanding, Nurturing, Inventive, Quality, Unstoppable, Expression of Leadership. Debra uses the setting of a farm to help go through the 6 characteristics of a leader.
The main character of the book is Hugh. He is a sheep who has lost his way. He also has to deal with a lot of seeds that he let take root in his mind, heart and spirit. Things that weigh him down. But he meets Leda, one of the owners of the farm and she decides to take him home with her and help him plant his Leadership Garden. There he meets Annabelle and she goes through the 6 leadership garden lessons. Each one has something different to be learned.
As an adult going through Growing the Leader Within, I realized how much like Hugh I was. All the negativity and thoughts that I had let take root in my mind, heart and spirit. It is enough to weigh a person down so much they feel like a failure. It is hard to overcome those things without guidance. And that's what this book does. It guides you through 6 different lessons with different activities to do to help you grow as a leader and pull the weeds of doubt and negativity.
I really liked how the activities at the end of each chapter really helped nail home the lesson that was being taught. You definitely need the guidebook as it is referenced quite a bit.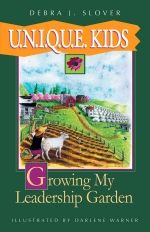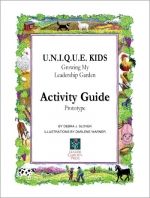 For the kid's book, Jonathan (11) would read a chapter or 2 a week and answer the questions at the end. Not every chapter had questions though. We also got to use the
activity guide and journal
for the kids book. The book follows the same story of Hugh and his journey through the leadership garden. But this is definitely geared toward a younger mind.
You could definitely read this aloud to younger children or listen to the audio version. I would definitely recommend it. Jordan (who turns 6 in a month) would sit and listen to the audio during play time. Granted he didn't listen 100% of the time, but I was able to ask questions and he would often be able to give me an answer.
We also used the audio MP3's when we would be in the car. It is a great way to get it in. Jonathan was able to follow along with the book while listening to the audio.
I really liked being able to incorporate some of the activities from the kids activity guide. It not only deepens the lessons but also is a good way to incorporate school type activities without being to invasive.
Jonathan is my writer, so the journal really appealed to him.
Overall, I am really pleased with these books. I could call them curriculum, but it's actually a type of self-help and guidance. They guide parents through their own leadership path and also help guide the parents to nurture their own children through the leadership garden. I think in this day and age where we are going to be in need of good Leaders, this will go a long way in helping parents and children realize their full potential.
Pricing for the Leadership Garden Materials is as follows:
U.N.I.Q.U.E: Growing the Leader Within
- $18.95
U.N.I.Q.U.E Kids: Growing My Leadership Garden
- $18.95
The Leadership Garden Guidebook
- $18.95
U.N.I.Q.U.E. Kids Activity Guide & Journal (Download)
- $8.95
U.N.I.Q.U.E. Kids Audio MP3 (Download)
- $ 8.95
U.N.I.Q.U.E.: Growing the Leader Within Audio MP3 (Download)
- $14.95