From their website:
"Science, Naturally!
is an independent press located in Washington, DC. We are committed to increasing science and math literacy by exploring and demystifying topics in entertaining and enlightening ways." Their materials are designed to help students think outside the proverbial box and think creatively.
One Minute Mysteries: 65 MORE Short Mysteries You Solve With Science!
was written by a father & daughter team. Eric & Natalie Yoder had written 2 books prior to this and wanted to make another book that would appeal to students following the same principles as their first books. You can read more about Eric & Natalie
here
.
This book arrived during a time when I was struggling to figure out how to get some more science into our year. I had these grandiose plans of using a very good curriculum but an unexpected surgery and life events came up that threw me all off kilter. Needless to say I was really struggling.
Seeing the One Minute Mysteries on the review list really peaked my interest. I went to the website and looked around. It seemed like something that my boys, Jonathan(11) & Jordan(6), and I would enjoy. So I applied and was thrilled to find out that I was one of the people being able to review it with my two boys.
So the day that it arrived, I ripped open the package. I was actually more excited than the kids. (I think) Well I not only had my kids but a friends kids that I was watching for a few hours. We were all outside and I remember opening the package in front of all of them.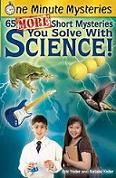 Well all the older kids Jonathan, Jordan, Lucas & Gimbo (ages 11-6) wondered what had me so happy. So I showed them the book! I then asked if they would like me to read them a short mystery for them to solve. They said "YES!" They got the answer to the first mystery fairly quickly. I began to set the book down when they asked me for another one. Who am I to resist letting kids learn?!? So I read another short mystery to them. And again, they all thought about it and started shouting out answers. They even tried talking it out to get to an answer and came fairly close to the actual one. I read the explanation on the back to them for each story so they could see how accurate they were or what they needed to think about.
The excitement didn't die down after day 1 either. I have 2 boys who love mysteries and so this was huge for them. We would sit on the couch with our book and I would read through 2-3 stories about 3x a week. There was one week when we had to limit it due to testing and timing but we really enjoy challenging ourselves to do 2-3 on the days we do our science.
The boys like blurting out answers and so sometimes I really need to tell them to think about the situation and will sometimes find myself reading it again to them so they can listen to the details of the story again and figure out the answer.
I personally love the real life applications of these stories. I think that sometimes it's hard for kids to grasp ideas and concepts without knowing a real life application. These stories definitely give that much needed element. It is something that is definitely needed today.
In looking into their other books, we will definitely be purchasing the others for us to use during the summer. We visit family in Tennessee and these books would be an awesome way to pass time on a 12 hour trip. Not just for reading aloud but alone too. Jonathan especially loves to read mystery books and since he loved this book, I know he will love the other books as well.
These are definitely something I recommend for every family. Simple, effective and easy to use. Just a few minutes a day and your kids are using critical thinking and applying it to get the solution. I love that they are family friendly and use real life situations. From tennis, to planting gardens, to laundry, there is a lesson in each short story!
Now for the special offer! Normally each of these books are $9.95. And that's a great deal in and of itself. But Science, Naturally! has given me a special deal for my readers. You can purchase any 3 books at their website for only $19.95 and shipping is just $2.95. The normal retail for 3 books with shipping is $35.80 so this saves you $12.90! Just enter coupon code
3SPEC
in the shopping cart at
www.ScienceNaturally.com