Mission Statement
Baker Publishing Group publishes high-quality writings that represent historic Christianity and serve the diverse interests and concerns of evangelical readers.
Herman Baker came to the United States in 1925 from the Netherlands. He was 14 years old when he arrived. At 16 he dedicated his life to Christ and became an active member in the church. He began Baker Book in 1939. The store was based in Grand Rapids, MI. His stock about 500 used books from his own library. In 1940, he published his first book. And that was just the beginning. To read more about Herman Baker and the Baker Publishing Group click
here
.
Mary Ann Kinsinger & Suzanne Woods Fisher worked together to write
The Adventures of Lily Lapp
series.
Mary Ann grew up under the Old Order Amish in Somerset County, PA. She married her husband, whom she knew from her school days and they started a family. They currently reside in Pennsylvania. She has a blog titled
A Joyful Chaos
in which she shares the memories of her childhood.
Suzanne's grandfather was one of 11 children. He was raised in the Old Order German Baptist, in Franklin County, PA. Suzanne has written bestselling fiction and nonfiction books about the Amish and was thrilled to share Mary Ann's stories. Suzanne loves to raise puppies as guide dogs for the blind. She lives in California with her husband, children and Tess, her big white dog. You can find her online at
www.suzannewoodsfisher.com
Currently there are 3 books in the Lily Lapp series. I was privileged to review the first two books,
Life with Lily
and
A New Home for Lily.
So that meant, I got to read the books myself! Now I love to read so this was right up my alley.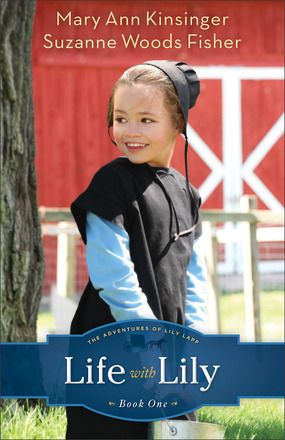 In
Life with Lily
, you meet Lily and her family. They are an Amish family living in upstate New York. Lily is 6 years old and goes on a lot of adventures! Some good and some, well, lets just say she can find herself in a little bit of trouble. Though sometimes she isn't alone in that trouble. Her brother, Joseph, is also causing a ruckus.
In the beginning Lily and her brother, Joseph, are taken to their grandparents house. Lily is not unfamiliar with the house, but she was taken in the middle of the night. She was confused and didn't understand what was going on at the time. A little bit later her father comes home and shares the good news of a new baby in their family. Now she realizes why her father took them to their grandparents in the middle of the night.
Many more adventures happen to Lily and her family including a barn raising, getting a cow, the cow escaping then encountering a nasty neighbor because the cow escapes and going school for the first time. She also celebrates her birthday and goes through a wealth of emotions and situations that challenge her in doing the right thing. She makes mistakes and learns there are consequences.
I could really feel the emotions of Lily as she goes through these things. In the part where the cow breaks loose and her mom has to deal with the angry neighbor who has the gun, I truly understood and felt scared with her. So her father goes and apologizes to the neighbor. When he gets back, he tells her that they need to try hard to say or do something nice for their neighbor. Lily doesn't understand this and thinks it quite impossible to do. As I was reading that part, I was thinking to myself, that it would be VERY hard to do. Even as an adult I find this a difficult thing to accomplish. Does she continue to hold ill feelings toward the neighbor? You'll have to read the book to find out.
These are just a few of the things that happen in Life with Lily. There is so much more but I don't want to give it all away. ;)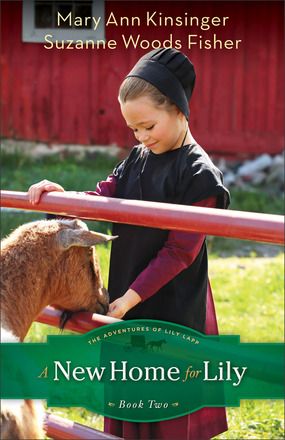 In
A New Home for Lily
, she is now 7 years old and they have moved. She does not like that fact at all. They moved from their farm in New York to a farm in Pennsylvania. She really doesn't like the new house. It's green and has an ugly orange counter. (I feel her on this one) There weren't enough bedrooms. (again, I can totally relate to this situation) And she has to adapt to a new school, church, community and try to make new friends.
Lily is dealing with a lot of new things. Mainly all the new circumstances from moving to another state. She and Joseph start going to a new school. She is shy and nervous as she goes to meet her new classmates. There she meets Aaron Yoder. She thinks he has a wild look about him and then he sees Lily looking at him. So what does he do? He sticks his tongue out at her! She resists the urge to do the same. Poor Lily. Aaron is quite irritating and she wants make some new friends in the new school.
Lily does find some good things though about moving to Pennsylvania. Her house has electricity! She loves being able to turn the lights off and on. She also loves her new teacher. As the year passes, she gets the surprise that some family are moving down to Pennsylvania as well. And then there is another baby! (But I am not telling you whether it's a baby sister or brother. You have to read to find out.)
Life can be quite a challenge for anyone, but when you are 7 years old and moving to a new area, it can just be overwhelming. I too moved when I was 7, but I was fortunate to live in the same city. But I did move to a different state as an adult and I am sure the feelings almost the same. I was scared, afraid I wouldn't make friends. Just like Lily. The apartment we were in was nice, but there were some things that I didn't necessarily like.
Lily learns a lot about new beginnings and the opportunity to start over in this move to Pennsylvania. It's not always easy and things don't always go as planned. But life is an adventure for this little Amish girl in a new state.
~~~~~~~~~~~~~~~~~~~~~~~~~~

It was my goal to be able to read these books myself and save them for my daughter as she gets old enough to read. I did try to get my eleven year old son to read them but after he realized that they were really "about a girl" and her adventures, he decided that they no longer interested him. Oh well, it was worth a shot! ;) Who knows, maybe if he were just a couple of years younger, he wouldn't have paid attention to that detail.
I, however, really enjoyed reading these first two books in The Adventures of Lily Lapp. The life of the Amish community has always intrigued me. I have several books on my Kindle already, but they are geared toward young adult/adults. The Lily Lapp books are geared towards 8-12 year olds, but from my experience they would be appreciated by an older child or even adult.
It is my goal now to read them aloud to Cordelia and even have her brothers sit through listening to them. She and her brother, Joseph, do have quite a few adventures (such as described above). Carrying on the tradition of reading aloud to my children is definitely importance to me and my husband.
The Adventures of Lily Lapp take you to a simpler time. It's almost like you are back in the mid 1800's. But yet they are based in modern time. Lily who many can relate to. She has rules to follow and makes choices on whether to listen or not to those rules. She learns there are consequences to her actions and even lack of action. The choice of whether or not to forgive is something she faces as well. (Aaron Yoder and the angry neighbor) Growing up isn't easy, as Lily learns.
I really liked the detail that the authors go into about being an Amish child. It lets the reader understand how simple things really are and that there are things we do every day that some don't. In the first book they don't have lights in the rooms that work all the time (if at all). By the 2nd book in the new house, it has some more modern conveniences. Over the course of the books she gains 2 siblings! (not going to spoil the details of that one) She goes to school to learn and sees that there are different types of teachers and that some kids might not always be nice. How to overcome conflict and show kindness even though someone was mean. To think good things and not let the negative rule your heart. These are all things that Lily learns and goes through. And honestly these are the kind of things I want my own children to learn how to do and by reading or hearing me read aloud to them is showing them examples of how the world works. I think it's great to have examples of children their own age so they can see that they aren't alone in their daily struggles.
Honestly, I can't wait to get the A Big Year for Lily (July 2013) and A Surprise for Lily (September 2013) to read as well. These books were so much fun to read and I definitely recommend them. They are definitely geared toward girls, but I think that the boys might relate to her brother, Joseph if they are slightly younger than my son. I honestly remember reading books where the characters were boys, but maybe it was just me. I loved to read! And still do to this day. I hope that by having a wide variety of books in our house that we are able to keep that love alive in our children.
Life with Lily and A New Home for Lily are each $12.99. You can get them directly from Baker Publishing Group
here
, or at
Amazon
or the closest
Barnes & Noble
.