Classical Conversations
was founded by Leigh Bortins. She is a homeschool mom to four boys. She has also taught study skills for 20 years to children and adults and is also an author. To find out more about Leigh, click
here
. Classical Conversations combines a classical education with a Biblical worldview. To find out more about CC, click
here
.
This Review is for Classical Conversations Cursive Copywork program,
PreScripts
.
Specifically the book
Passages and Illuminations
One of the methods of classical education is copywork. Copywork is the copying down of passages from literature, the Bible, important documents, poetry and the like. It can start out as simple sentences for younger children and turn into full passages and chapters for older children.
By doing copywork it helps the student learn the ins and outs of the English Language by those who have demonstrated excellent writing ability. It also reinforces memory work. By writing down passages, it helps commit them to memory and children can easier recollect those passages.
Copywork also allows them to hone their cursive skills. A skill that sadly is not being taught in many schools today.
I remember being in 3rd grade and being so excited that I could learn to write in cursive. The curves and loops were so beautiful and elegant and I wanted to write using that style. My mom had us do several different writing courses during our homeschool years.
When I started homeschooling Jonathan, I started him in manuscript style of writing. We started cursive in 1st grade because the curriculum we chose at the time called for that and did not have manuscript. It was so frustrating at the time. Now I look back and see that he wasn't ready developmentally to handle cursive in 1st grade. But we plugged on through the frustration and tears. Now, Jonathan actually enjoys writing in cursive.
PreScripts
is a curriculum from Classical Conversations that helps to hone the cursive writing, copy/memory work skills that are definitely needed today.
I have often sat in wonder at the thought of a child who doesn't know how to read or write in cursive. How can you read the documents written by America's Founding Fathers if you don't know cursive? This is something that still needs to be taught. It's not just writing but an art form. Something to take pride in and enjoy doing.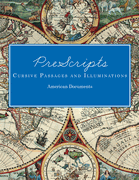 When I opened up
PreScripts Cursive
Passages & Illuminations
it was so simply done but yet beautiful to see the choices that were chosen. They were all from American documents and speeches. I enjoyed just looking through the copywork before Jonathan worked through the book. I also liked how it introduced illuminations. Illumination is simply decorating the text. Whether it's the first initial or decorating through the manuscript it is a way of decorating the text. Sometimes borders were added as well.
In Passages, the student first does their copy/memory work and then works on an illumination. I had Jonathan work through Passages approximately 3x a week. However, he enjoyed it so much that he really wanted to be working on it daily. I chose however to keep it to 3x a week mainly because I didn't want to get him to feel rushed through it.
I also had him take his colored pencils to help with his illumination practice. Sometimes he used them, sometimes he didn't. Whatever strikes the artists fancy. I wanted him to explore and create on his own terms. Below are just a couple of the samples of his work. Sometimes he tried to mimic the original illumination, where as others, he went on his own direction.
We really liked the PreScripts Book Passages & Illuminations. I can't wait till he is finished with the whole workbook. It will be a work of art to save for a lifetime.
Passages is the 4th in the PreScripts series. Each book builds on the prior one. They all have different styles of writing. Passages is for ages 9 and above. Jonathan is 11 and sometimes rushed the copywork, but overall he took his time to make it as nice as he could. I definitely recommend it for building writing, memory and creative drawing skills.