Ed Douglas, of
Ed Douglas Publications
, is the author of the book
25 Truths
. He wrote this book based on his own experiences. In coming up with the 25 Truths, he uses scripture, inspiring quotes to share a message that is needed today. He is also author to several other books. To read more about Ed Douglas
click here
.
I was intrigued to say the least when I saw the book title
25 Truths
come up for review. I really wasn't sure what it was until I explored the website a little bit more. What I saw made me want to get the book regardless of whether or not I was selected to review it or not.
In todays world it seems, at least to me, that the things that used to be important are no longer of any value to people. Faith, family, character and moral values, health, happiness, work ethic, how to help others and other things that are used by successful people today.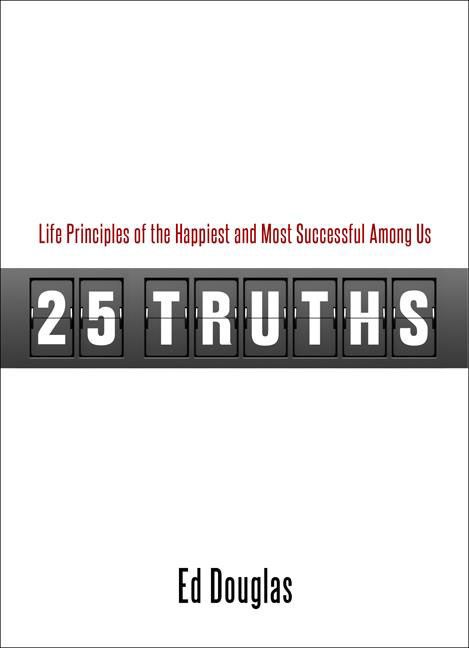 I don't know about you, but I want all of my children to these things. They are important today. But unfortunately they are not demonstrated as much as they should be.
I see so much of a gimme (or the world owes me) attitude and it frustrates me because that is not how I was raised. My parents took us to Church, taught us that family was important, that it mattered to be honest and of good character. They also taught us the value of hard work and helping others.
Ed Douglas wrote this because he too saw a need for these things to be instilled in our children and even adults today. What is now a book called
25 Truths
started out as a list. But it wasn't a one page list, but a 3-page list. He would share this list with others and also to the teams he was privileged to coach. Not only did it help them as a team, but as individuals as well.
Each chapter in the book is fairly short, but has quite an impact on you. The stories, scripture references and inspiring quotes definitely leave you thinking and inspiring you to be better.
One of my favorite Truths that he covered was "Watch what you Say, Do & Write." This is so important today especially because of all the social media that is around us and our children. Between Facebook, Twitter, Pinterest and blogs, the internet logs EVERY word that is written and posted. Facebook keeps a record of everything you share and reply on "friends" pages is recorded. There is even a log that you can download of this data.
So did you really mean to post that comment or status on Facebook (or other social media)? Will it be something that will haunt you and harm anything you do in the future, or is it something that will help you or someone else? Does it build up or tear down?
One of the things my boys (and even myself) struggle with is our words. Sometimes we get so frustrated that our words come out before we even think about how they will received by someone. The Bible says that the tongue is the most powerful part of our body. It can tear someone up or down. There are many scripture references to the tongue. It is the hardest thing to tame. It is probably something that everyone struggles with as well.
Another one of my favorite Truths deals with taking care of our physical bodies. This is something that I am working on myself and also see my kids wanting to do more of as well. I have struggled with my weight but I know that if I don't take care of my body it could mean not being around for my family in the future. I am fortunate enough to still have my parents. But my husband lost his father at a young age. Darren was 15 when his dad passed at the age of 54. That is so young! My husband and I are on a journey to get healthy together and also keep our family healthy. That is just one of the priorities we have as a family.
So from health to faith to character (moral values), 25 Truths covers many things that need to be stressed today. These things, when applied, can help you live a happy life and can even help you wherever you go. They aren't just things that one person does, but that many people do, many successful people follow these principles.
I encourage you to share this book with your family. Read one short chapter every other day. This gives some time for the truth to sink in. It is how we read through this book. We would go through about 4 a week. I really liked the summary and questions that were given at the end of each chapter. It helped Jonathan (who is 11) to really think more on what was read. Jordan (6) was even able to grasp some of the concepts that were given in this book.
25 Truths is geared towards 6-12 grades. But we had all our children (ages 1-11) sitting as we read through this during our morning school time. They didn't all sit, but the older two were always able to answer the questions. I really liked how simple the 25 Truths are and that the chapters are quick to read. In all, the book is about 150 pages long with the chapters being 3-4 pages each.
If you are looking for a book that will help you and your children rediscover the importance of faith, family, hard work, health and so much more, then I highly recommend this book for you.
To Purchase
25 Truths by Ed Douglas
click
here
. It is $12.50