The Logic of English
is an approach to learning reading, writing and spelling. It uses 74 basic phonograms and 30 spelling rules. These components explain about 98% of the English words. There are no sight words with Logic of English (LoE). This method explains why words are read and spelled the way they are in the English language.
The Logic of English has 2 programs. Foundations and
Essentials
. They also have a handwriting course as well as an iPad/iPhone app.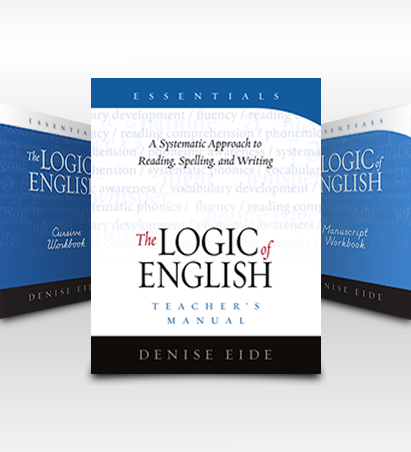 We received the
Essentials
program. This included the Teacher's Manual, Cursive Workbook, Game book, 1 set of Basic Phonogram flashcards, 1 Spelling Rule Flashcard Set, 1 Manuscript Game Card sets and 1 Cursive Game Card set. We also received the
app
for iPad/iPhone.
I decided to use this curriculum with Jonathan (11/6th grade) and Jordan (6/1st grade). For Jonathan I meant it as more of a review/remedial work and to help him pick up things that he still somewhat struggles with in reading.
The way he originally learned was quite different from this and while it was good at the time, it was a lot to remember. Many rules and things for a kid to remember all while learning to read and write and spell.
For Jordan I am using this in conjunction with another program that we are using to teach reading. They follow a similar if not almost the same approach to learning to read/write/spell.
I started reading the Teacher's Manual almost as soon as I got it out of the box. There is quite a bit of introductory reading and I wanted to make sure I understood how their methods worked before I started teaching the boys.
I also wanted to know how fast each one should move through the course. Since Jonathan is older, I knew he would move quickly. Jordan, since he is still beginning to read/write/spell is taking a little bit more time with the lessons.
Jonathan wasn't too thrilled with the first lesson since it was more or less a jump backward for him. But he quickly advanced through the lessons. The first day with Jonathan and Jordan we spent approximately an hour before I took a break. Jonathan went through it quickly and Jordan was working hard to keep up with Jonathan. They did enjoy playing the game together that day though.
In starting this, I have since changed what we do together and what we do separately. We work on the phonemic sounds (there are 74 of them) together since they are the same per student. It is a quick process for us now (maybe 10 minutes at the most).
I am actually enjoying the phonograms and after working with the boys on them it makes more sense than the way I was taught and how I taught Jonathan.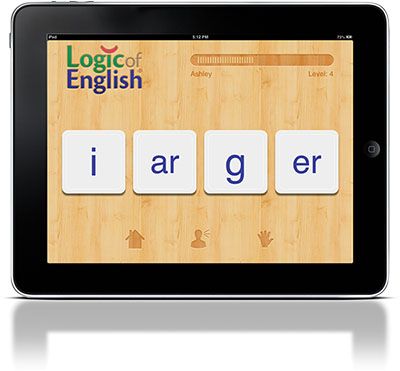 After our phonograms, I send Jonathan to do some other subjects so I can work with Jordan. We are going through about a lesson a week with Jordan on his level. We spend roughly 30-60 minutes a day (broken up into 2 sessions if it is the longer time). This includes the phonogram practice, spelling rule review, spelling list and some independent work. It is in the independent work that I let him work on the
app
that Logic of English has for the iPad/iPhone. This helps reinforce what he learns through the lesson.
Jordan has been catching on quite well and we are able to keep up with the one lesson per week with him.
The Teacher's Manual breaks up the lessons quite well for you. Jordan is considered an Emerging Reader & Speller. The manual offers tips, amount of time to spend per day, tips and a sample schedule. This made it easy so I don't get lost since I am teaching different lessons to each child.
For Jonathan we are going through roughly 2 lessons a week. In the teacher's manual he would be considered a struggling speller. I could have put him in a more intensive program for struggling readers and struggling spellers, but didn't think he needed that much emphasis on the reading end. It's the spelling he struggles with mostly.
Now that he has caught on with the phonograms and how the lesson applications all work together, I have seen an improvement. Not just in his spelling and reading though, but in his performance in other subjects too. I think the fact that he was struggling with spelling (which flowed into the reading a little bit for him) made things a little bit harder. He is getting more sure of himself and that new found confidence has helped him quite a bit.
Both Jonathan and Jordan really like the games. Even though they are at different levels they can grasp the basic concepts of the games. Jonathan even uses the app (but several lessons ahead of Jordan). The app is flexible because you can set where your child is on the lessons. This way 2 kids can utilize it and also be on different lessons.
Overall, I am really liking this for our boys. Jordan is thriving in his beginning reading skills and Jonathan is definitely picking up where he needs to be and advancing.
The cost for each peace is as follows:
Teacher's Manual - $85.50
Cursive Workbook - $22.50
Game Book - $13.50
Basic Phonogram Cards - $16.20
Spelling Rule Cards - $13.50
Cursive Game Cards - $9.00
Manuscript Game Cards - $9.00
iPad/iPhone App - $2.99