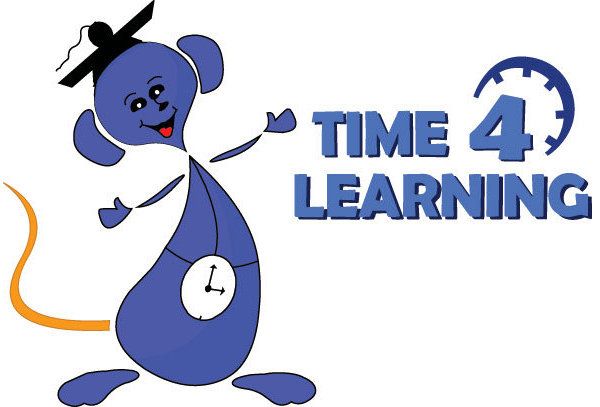 Time4Learning
is an online curriculum. It covers grades pre-school - 8th grade and they recently added High School level curriculum.
The pre-school - 8th grade curriculum covers Language Arts, Math, Science and Social Studies. And their High School level covers English, Science, Math & Social Studies with the option to add on electives such as Economics and Health.
The cost for the first student is $19.95/month and for each additional student is $14.95. (Pre-k - 8th grade). High School level is $30/month and includes 4 subjects.
We received a 6 month subscription for this review. The grade we chose was 6th grade and there is the option to put him in a grade higher or lower than the grade registered. This was an awesome feature. If you needed to review something in the prior grade level, you could do so.
Let me start out by saying that Jonathan really likes working on Time4Learning. He enjoys using the computer for school.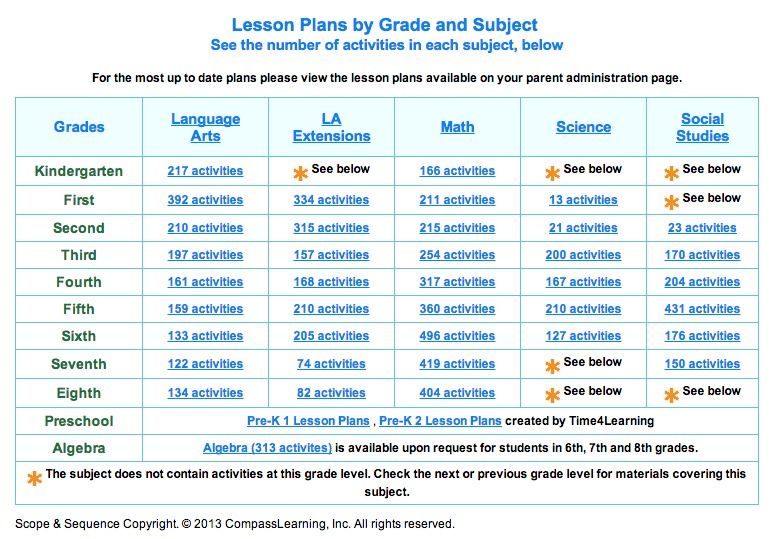 I like how there are separate logins for the parents and student. The parent side allows you to setup a schedule for your student to follow. You can set it up so they complete a years worth of work in a certain amount of time, or you can set it up so they end on a certain lesson number by a certain date.
You can also check the progress of your student online and also see what lessons are completed. This is good for us so we can put it in the portfolio we submit to the school district every year. The report feature is great for that. :) Parents can check attendance, create certificates and also participate in the parent forum that is available.
So, typically I am very leery of keeping all of my eggs in one basket for curriculum. I adapted from a traditional textbook style to a very eclectic mix match our own curriculum due to learning styles. I feel bogged down by such style of learning.
But I was pleased with how Time4Learning was set up. The lessons are animated and are really good at keeping Jonathans (11/6th grade) attention. The lesson plans/scope and sequence really gave us a good idea of what he would be learning. Some of the things he has covered before (such as plants) but he was glad to go over them again. They use a wide variety of things to help the student learn the skill or subject being taught.
I was definitely glad to see the hands-on activities for Science. That was something I was concerned about with the curriculum being online. But the activity corresponded with the subject they were learning about. Our favorite activity so far was "The Magic Seeds and the Beanstalk". Playing with beans is almost a daily occurrence at our house. Even our younger students (6 & 3) got in on the action with the beans.
There is a list on the parents side of items needed to complete the activities. Definitely want to make sure you check those lists before the week so you can have the items you need.
Something else that Jonathan and I have both liked is in the Language Arts Extensions is the wide variety of literature used. There are authors like Frances Hodgson Burnett, Jack London & Rudyard Kipling to name a few. Most of the excerpts are included, but there are some that are not. There is a reading list on the parent side as well for you to check out.
In reading the excerpts I feel that it gave Jonathan a taste for literature and he now wants to read the complete books instead of just excerpts.
Jonathan is spending roughly 2hours a day utilizing the Time4Learning website. Sometimes less but no more than that. He works on it 4 days a week as well. He will put on his headphones (as seen in the picture below) and work on each subject. This has allowed me to be able to devote time to Jordan's education. Though I think Jordan really wants to do this as well. (Jordan also loves to use the computer)
I did set up a schedule for him using our 6 month subscription as a time frame. He is doing pretty well with keeping up with the activities. There are SO many options within each subject and this really is a full program.
Overall, I think this is a good program and I think it can be adapted to fit a variety of learning styles. The makers or Time4Learning definitely put a lot of hard work into making a complete curriculum. Between the lesson plans, reports, spelling lists, book lists, and the curriculum itself, it would definitely be worth the investment.
I feel that this is really good for the student who is rather independent and only needs minimal guidance. Jonathan did fairly well with it. He did make one complaint though. The one day in Social Studies they must have been studying about some foreign countries and he wondered when they were going to study the United States. I am sure that is to come though. (I might have to peek ahead in the lesson plans to see when it is)