From the
God's World News
website, "
God's World News
will provide news and interesting information for children - biblically, appropriately, and vibrantly - so they can grow in their understanding that God has the whole world in His hands."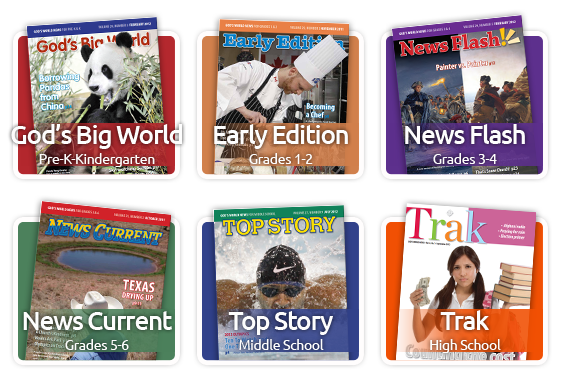 God's World News
offers several magazines directed towards children ages Pre-K through High School. God's Big World (Pre-K - K), Early Edition (1st - 2nd), News Flash (3rd - 4th), News Current (5th - 6th), Top Story (Middle School), and Trak (High School). There are 10 monthly issues for the year subscription. There is also a magazine for adults called World Magazine. Subscriptions for God's World News Magazines are $28.00/year.
We received
God's Big World (GBW)
for our review and along with that access to the online information as well. I chose this option because I can always give my oldest son more to do in researching the articles and stories in the magazine.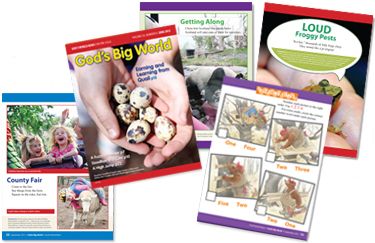 GBW
is full of vibrant pictures for your little ones to see. The cover of the October issue was a beautiful Puerto Rican parrot. The colors of green and red (right near the beak were beautiful. You could see the feathers in great detail.
Once you open the cover there are even more vibrant photo's to go with each story in the magazine. Here are some of the stories from the October issue.
Diana Nyad's swim from Cuba to Florida
The changing of the seasons (which included some great info about Arizona and their fall season). The story about Arizona was great because we have visited family there and my kids remember that trip. They are now asking to go back so they can see the fall colors.
The replicas of Christopher Columbus' ships Nina and Pinta. This one was fun as well because the ships happened to come to Pittsburgh. While we did not get to go on them, we did get to see them from afar. I would love to see them come to our town again. :)
My favorite story was about the man who lost his ring in WW2 but someone found it and returned it to the family.
I love how the stories incorporates Scripture. The scriptures reinforce Biblical truths and promises to us.
Oh, it seems I forgot to mention the puzzles inside the magazine! My 2 youngest boys (ages 6 & 3) were thrilled to be able to do puzzles. Their brother recently received a subscription to a magazine that had puzzles in it as well as stories so they were feeling left out until we got God's Big World! They LOVE that there are puzzles for them to do in it. They offer a wide variety of challenges. Putting a sequence of events in order, matching baby animals to their parents, finding the differences and more. My boys LOVED this part of the magazine. So much so that I do make a copy of the page so they can both do the activity.
On top of the physical magazine, you get access to their online teaching tips with your subscription. There are lessons that accompany each month as well as biographies to read as well. The biographies also ask questions at the end so you can see what your child remembers and incorporate it as part of your school. It is also available to download so you can print it off and have the student answer the questions. You can also access a digital copy of the magazine (PDF Form) and the answers to the puzzles inside.
There is also a section of the online subscription there is an activities and resources section. There are 2 subsections: Explain It! and Today in History. Explain It! has topics ranging from Astronomy to Bible to Geography, Language and Science! SO MUCH information is included! The Today in History section is just like it sounds. What happened today in 1532 and 1751 and so many more years. Of course the years change based on the day, but it is so much fun and so interesting to see what all happened on this day over the past centuries.
Overall, our family really enjoyed the magazines received (August & October). The stories are short enough to keep the attention span of the ages and you can get more information from the online resource to give the older children more depth. I definitely plan on renewing our subscription for this magazine and even adding on another age appropriate magazine for my older sons.