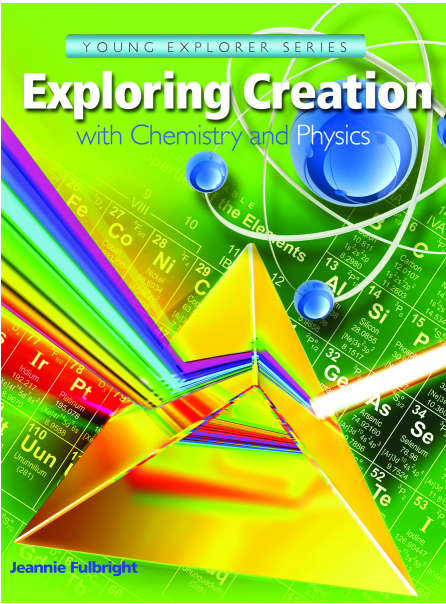 I have known about Apologia for quite some time. We have used 2 of their Young Explorer Series before this review and really enjoyed them quite a bit. I was so excited to hear about their new book in the series
Exploring Creation with Chemistry & Physics
. If it was like their other books, I knew my kids would love it.
So let me give you some information about this curriculum. There are 14 lessons in this book . They can (and really are meant to be) broken up into smaller segments for you to use either daily or several times a week. However you seem fit for your homeschool schedule. It really depends on your students and what you feel they are able to do and handle in a day. The Notebooking Journal has a suggested schedule that I find really helpful! It saves me that overwhelmed feeling.
The Lessons are as follows: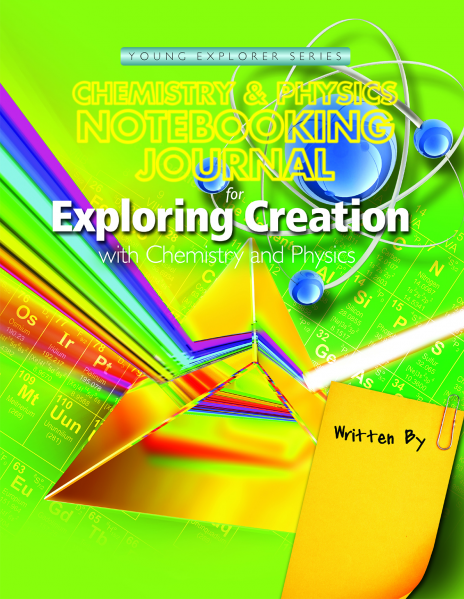 1. Chemistry & Physics Matter
2. Moving Matter
3. Building Blocks of Creation
4. Compound Chemistry
5. Multitude of Mixtures
6. Mechanics in Motion
7. Dynamics of Motion
8. Work in the World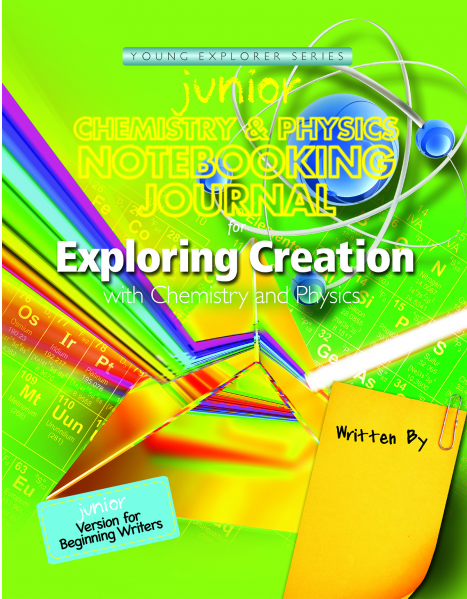 9. Sound of Energy
10. Light of the World
11. Thermal Energy
12. Electrifying Our World
13. Mysterious Magnetism (I can't wait to get to this lesson!)
14. Simple Machines
There are notebooking activities, projects and experiments, the notebook journal and even extras on the course website. Definitely utilize the course website. There are a lot of things there as well that you can add to really enhance your experience.
In the Introduction there is a "How To Use This Book" guide that is really easy to follow. It gives you the pages where the supply list is located so you can get items you might need for the experiments. (very thoughtful and time saving) I really LOVE how Apologia works hard to make it so we don't have to work as hard. From how to use the book, to the lists and the awesome experiments. It really makes a difference for me because I am a very busy mom (especially with 4 children) so having all this information readily at hand is beneficial.
In the Notebooking Journal there is a daily schedule. Apologia recommends 2 days a week for this particular book. Each lesson is also spread out over a 2 week period so you don't get overwhelmed. For me, I wind up spreading out the work over 4 days. Especially for Jordan who is still learning everything and I don't want to overwhelm him. Jonathan tends to get the work done in 2-3 days. If they don't finish their notebook in one day we have some more work for another day.
It really is what you make of it and how you choose to organize it.
I really enjoy reading aloud to the kids for their science. Even the youngest 2 children are in the room. I am hoping they absorb some of what their older brothers are learning. After reading to them, I ask each boy some questions so they can narrate back to me. This is a good way for them to retain what was just read and I love that it is incorporated in the book with the questions.
The "Try This" areas are what my boys really enjoy. They both love activities, games, things that make science come alive. Projects are the best too! They really choose things that show what is being taught. Fair warning, things can get a bit "explosive". ;)
Jonathan really enjoys the activities in the journal. I love that they will be able to keep the books with all the work they put into them. Jordan is ok with the journals, but doesn't like to do a lot of writing at this point. But I think that will change as he gets older and is able to put his words into stories and understand things like that.
Overall, this is another win for Apologia! We have really enjoyed the lessons we have done so far (part way through lesson 3 at this point following the 1 lesson every two weeks method) and can't wait to see what else is in store for us the rest of the year with Exploring Creation with Chemistry & Physics.

If you want quality, Christian Faith based Science Curriculum that reaffirms that God is at the center of it all then I highly recommend this curriculum (and their others as well). We really enjoy how it is put together (teacher and student friendly) and that they are sure to keep God at the center of it all because HE is the center of it all!

Here is the pricing for what we received.
Exploring Creation with Chemistry & Physics Book - $39.00
Exploring Creation with Chemistry & Physics Notebooking Journal - $24.00
Exploring Creation with Chemistry & Physics Junior Notebooking Journal - $24.00